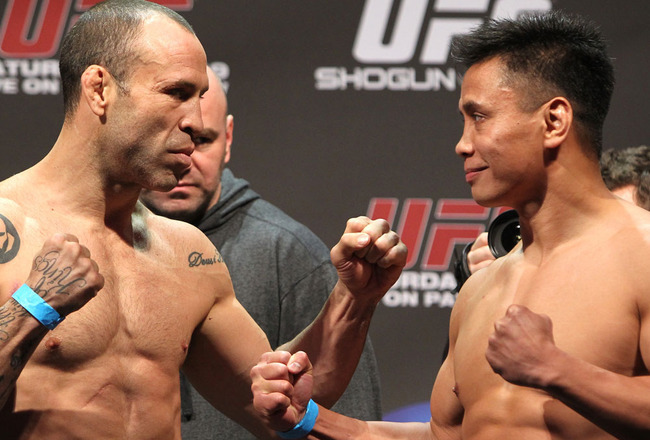 by Dr. Octagon, J.D.
Appearances are deceiving as Wanderlei Silva (left) is actually four years younger than Cung Le, who is 39. But Wanderlei has had way more fights and has looked terrible lately, especially in a 26-second knockout loss to Chris Leben in his last fight.
Silva gets no credit in my book for beating Bisping. Bisping is one of those English dudes who gets way more hype than he should because the fight fans are rabid in that country. Cung Le hasn't fought a ton recently. He's got a really successful movie career, but in 2008 he broke Frank Shamrock's arm with a kick. Cung Le comes out to a terrible Rihanna song, which is pretty beta. Cung Le looks like he's been eating too much on-set catering. As Kelli McGonagill Finglass would say, he looks pretty soft.
I just inhaled a bottle of red wine and sort of have a bellyache. Going to have to switch to scotch. Prediction: Wanderlei is going to win this one just because I don't take anyone from Strikeforce seriously, despite Nick Diaz's recent strong showing. Round-by-round scoring after the jump: